Finding inspiration...
To find inspiration, we met as a class and held a discussion. Students decided to choose Number the Stars for our final project because it was a novel that all students knew deeply. As our discussion continued, it revealed several main themes of which resonated with the students.The 4th grade students at PS 39 decided to base their final project this year on Number the Stars by author Lois Lowry. Accordingly they've spent the past several weeks reflecting on the book, brainstorming, composing, practicing, and performing their new piece of music.
Number the Stars Synopsis
As the German troops begin their campaign to "relocate" all the Jews of Denmark, Annemarie Johansen's family takes in Annemarie's best friend, Ellen Rosen, and conceals her as part of the family.
Through the eyes of ten-year-old Annemarie, we watch as the Danish Resistance smuggles almost the entire Jewish population of Denmark, nearly seven thousand people, across the sea to Sweden. The heroism of an entire nation reminds us that there was pride and human decency in the world even during a time of terror and war.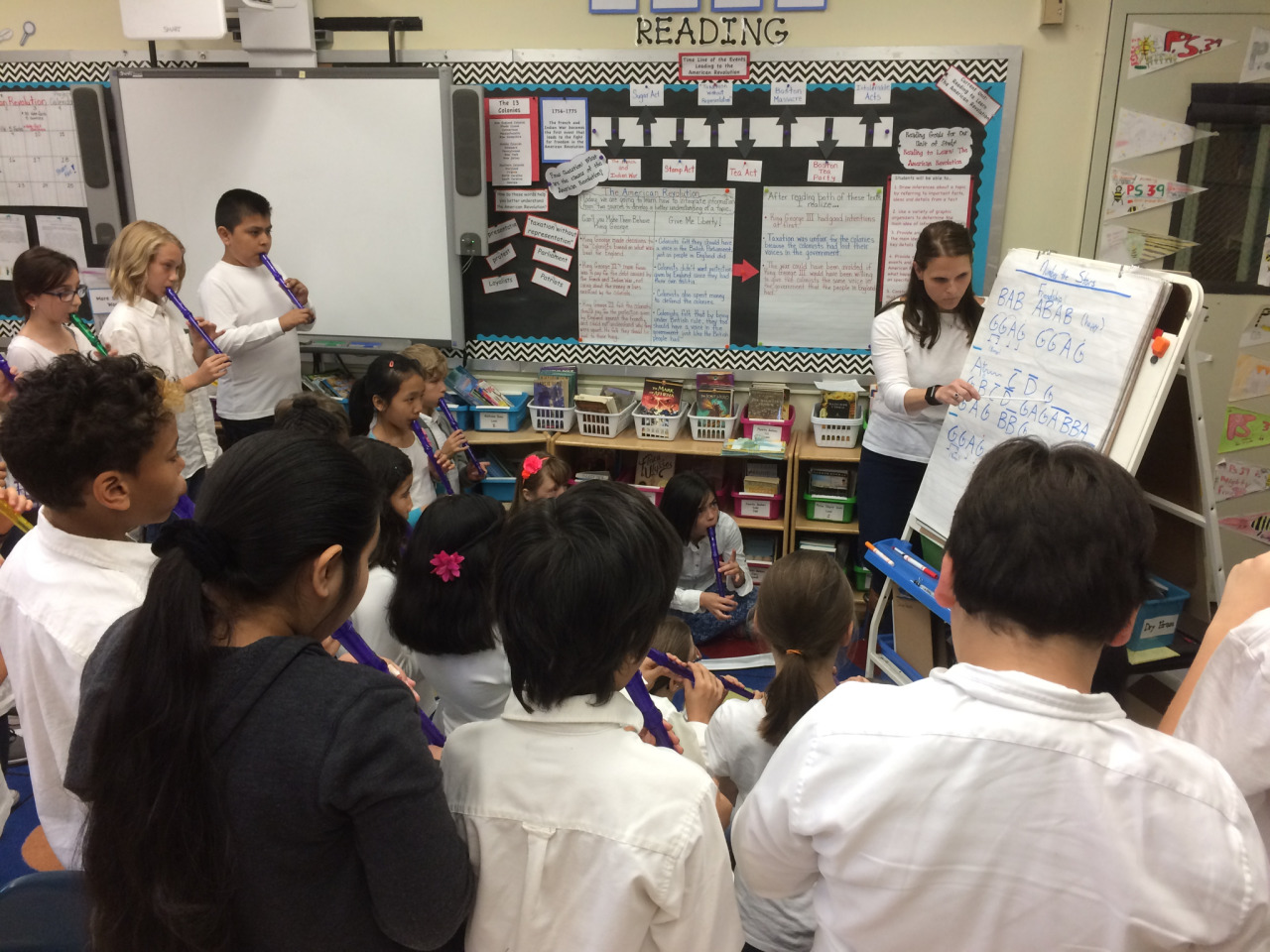 Practice, practice, practice!
Ms. Racioppo conducts her class through one of the final dress rehearsals. Early rehearsals were led by Mr. Paul who frequently tagged-teamed in and out with Ms. Racioppo so that she would feel comfortable conducting and rehearsing her class when he wasn't present. Practice play along tracks were made for some tricky sections.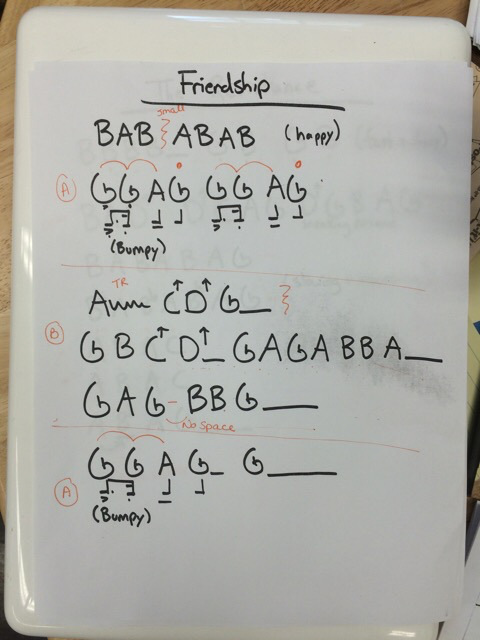 Friendship theme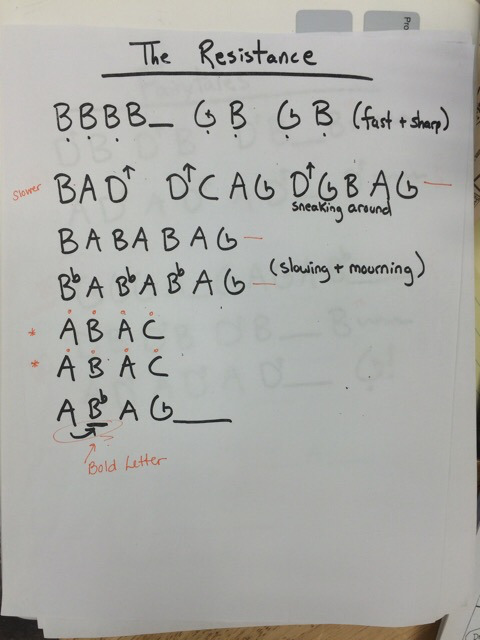 Resistance theme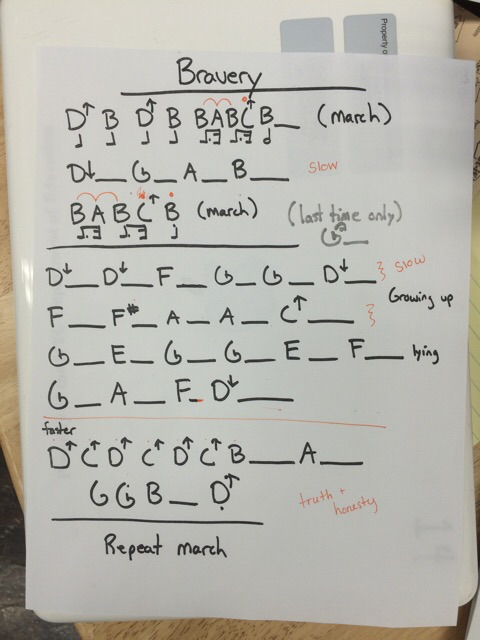 Bravery theme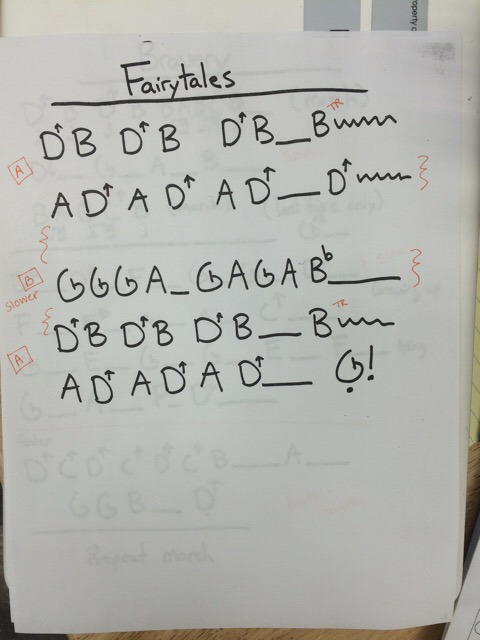 Fairytales played a big role in Number the Stars...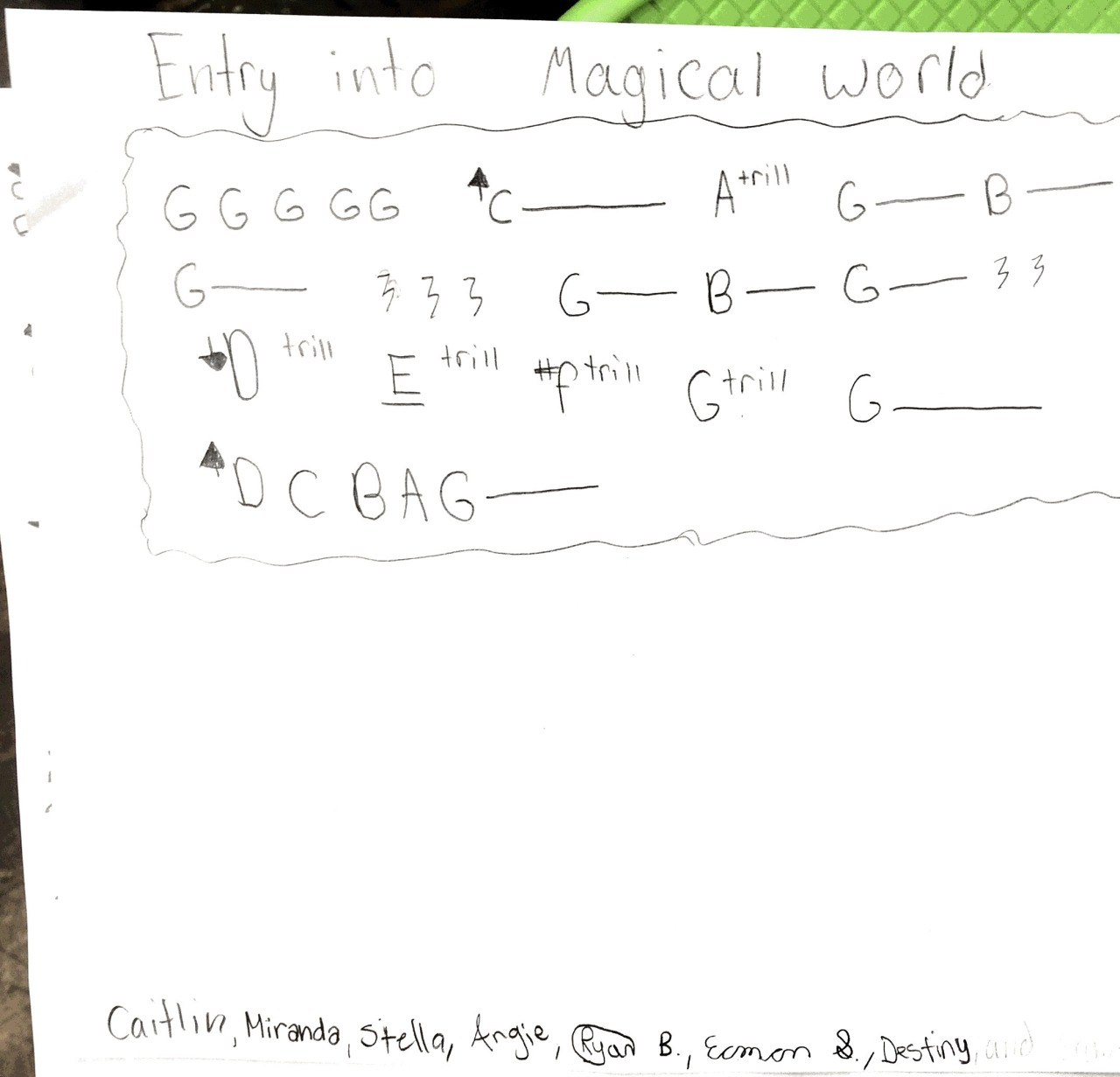 1st draft
Before creating a final score, Mr. Paul spent most of one class period helping each group share their draft composition with the class. We further revised the work at this stage. Mr. Paul made frequent recordings and began to visually notate any tricky rhythms at this point so they can be recalled between visits.
By our third meeting, students were beginning to gather and organize their brainstorms into collaborative group efforts. Each group eventually contributed a sheet like this on with a draft of their group's work.
An early brainstorm...
An example from our second class where students worked both individually and collaboratively in their groups composing brainstorms in their journals.
Our Composition Toolkit
For our second class, teachers organized students into small groups. Before we started composing, we constructed a composition toolkit together based on our work throughout the year so far. Students then worked in groups with each group focusing on composing music for a particular theme from the story. (i.e. bravery, fear, friendship, etc)